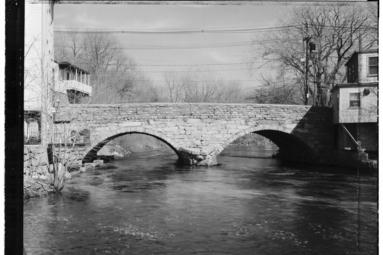 The Choate Bridge, built 1764, widened 1838, now carries 23,000 cars a day!
The May 16, 2015 Celebration Agenda
Drum workshop for children (Library, 2 pm)
Presentation: History & ASCE Plaque Presentation Ceremony (Green across from Choate Bridge Pub, 2 pm – 2:45)
Procession over the bridge (Kids from library, join adults at green across from Choate Bridge Pub, and proceed over bridge to the Middle Green in front of the Hall-Haskel House, 2:45 – 3 pm)
Childrens' Bridge Engineering Activities (Hall-Haskell House green 3-5 pm)
Special evening celebration (starts at 8 pm, at mural patio along River Walk)
Read more about the event at http://celebrateInfrastructure.Org!  Details will be added as they develop.